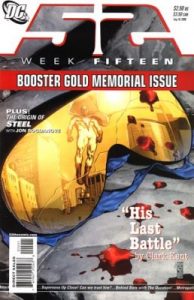 Comics Daily – 52 No. 15 – I never knew Booster Gold was such an asshole. His plot in 52 hovers around him using information from the future to save the day and then capitalize on the publiciy to become a celebrity. It maybe shitty, but at least he is saving the day. That is more than a Kardashian can say.
Yep. I went there.
Booster Gold's plan is interrupted by a new hero. Supernova starts flying in and beating Booster to the punch. The only problem being Booster's history records don't mention Supernova. He is a mystery. He seems to be doing good. Except for Booster's bank account. When he is less a big deal he stops getting the big deals. His bank account takes a hit. Suddenly, he is downgrading his lifestyle and not taking it very well.
An angry Booster Gold takes it out on Skeets. Belittling the computer guys attempts to help Booster Gold save cats from the tops of trees. Except Booster only wants those glory jobs. And he is a huge dick when he doesn't hear what he wants.
The thing is this Supernova guy IS very suspicious. He is too good. He is kind of just telling people what they want to hear… Except it is more like doing what people want him to… Which is saving the day. And that is a good thing, but, you don't want to trust a guy without a dark side. Or something like that. Something about him is off.