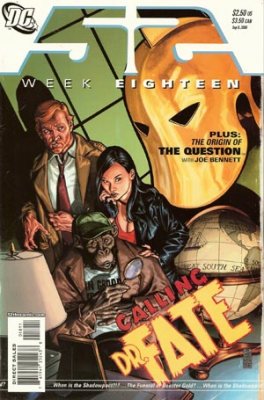 Comics Daily – 52 No. 18 – I don't know anything about Doctor Fate, but I am a fan.
I've never read Doctor Fate or Doctor Strange. Not significantly. I am curious about the role of supernatural superhero protector, but there as never been a series that has grabbed my attention. However I'm thinking about looking into Doctor Fate.
The helmet is really well designed. It has that Iron Man aesthetic, but it is also classical. Like a medieval piece of armor.
What I know about him as a character comes from the Bruce Timm version of Justice League. And now the Young Justice cartoon series. He watches over the human dimension from his obelisk home. He is married in Justice League. He was a member of the Justice Society in Young Justice.
In this issue it seems like the helmet of Fate is without a head to wear it. It rests in The House of Mystery, which I don't know what that is. When a few of DC supernatural characters approach its host disappears and the helmet crashes to the ground. And a new chapter to 52 opens up. Maybe not an entirely new chapter because Elongated Man is called in to investigate the meaning of Fate's helmet.