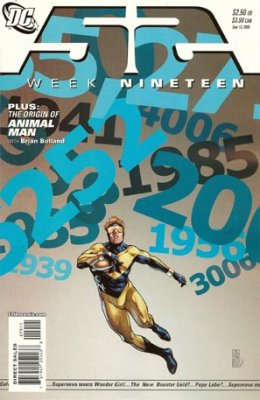 Comics Daily – 52 No. 19 – We have a plot twist! However it is at the end.
At the beginning of the issue we have Booster Gold's funeral. Except no one shows up. Clark Kent is there covering it for the paper, but no friends or fans show up. Even the pallbearers are paid talent hired by Skeets. Booster Gold dies reviled at best. Not known at worse.
However family shows up. A distant relative shows up. The great grandson of Booster Gold. Skeets invites him to come to her great grandfather's home. Thinking maybe we have a new legacy character. And that would be kind of cool. DC  has a habit of passing the superhero tradition down to others. It would be a great twist to make the new Booster Gold the originals grandfather. Because time travel.
It seems like Skeets isn't so much interested in training a new Booster Gold as he is in using the guy to read a message left on Rip Hunter's wall. It seems something Hunter was studying was a key detail to a larger plan. And when Skeets finds out what he needs from young/old Booster Gold he activates Hunter's time travel machine and casts the unsuspecting BG into another time.