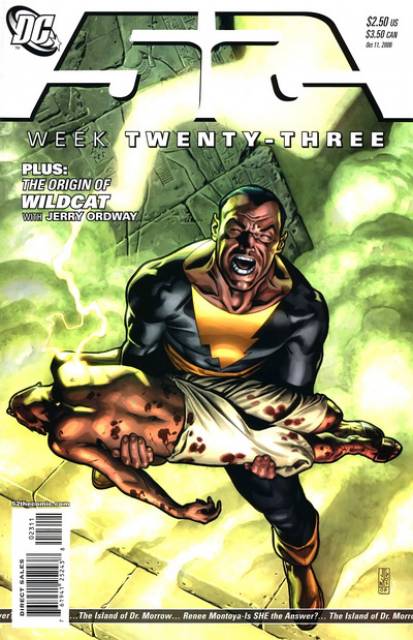 Comics Daily – 53 No. 23 – The Isis and Black Adam story is my favorite. I already know how it ends. It is easy to see but the execution is entertaining. It is a comic book story, but it isn't that typical.
The long search for Isis/Adrianna's brother has come to an end. Montoya, The Question, Isis, and Black  Adam find a camp of slaves being run by Intergang. The swoop in just in time to interrupt a ceremony going on. And within the ceremony is Amon. They rescue him and fold him into the Black Adam family as Osiris. Just as Captain Marvel has his Marvel Family, Black Adam forms his own.
The appeal of these people is they're more like people than they typical comic book character is. Adrianna and Amon feel like genuine people. They're damaged. They're from a third world country or at least one with society is bullied by the powerful. That gives both of the access points for the reader. Everyone feels like they're bullied at one point. They win us over almost immediately.
Similarly, Black Adam is a Superman that is angry and doesn't fight for goodness and virtue. Again, more like the typical real life human than other comic book characters, which makes the events coming all the more tragic.