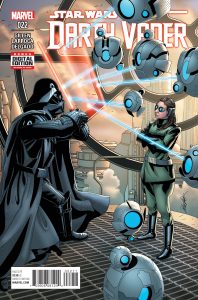 Comics Daily – Darth Vader No. 22 – Darth Vader dies in the end. I mean at the end of this issue. Except he doesn't because he ends up being around for Empire Strikes Back. So. Spoilers?
All of the machinations that have been going on are coming to a point. And. I guess I'm confused. This non-Force-cybernetic jerks are making a move against the Empire or just Darth Vader. I don't know. I've enjoyed this comic book but maybe not so much for the plot. Triple Zero, BT-8, and Doctor Aphra have been the supporting cast that seem to have surpassed the title character.
How do you make a comic book without a protagonist? I guess you make antagonists unnatural bastards or something.
This one seems to be a dud. There is some interesting action, but I'm not feeling the space whale star ship. The plot or even those these robot guys are or what they have against The Empire. I don't know what happened to the Rebels or the plan to find out about Luke. We were doing so well.
I guess, again, you kind of get stuck when you put this between two stories we know so well. You have to go somewhere we're not expecting while balancing what we know. Anyway. This series has been, like 93% great. So a dud after 21 great ones is okay.